This blog is to share our resources, book reviews, tips and ideas as a community of language professionals. If you would like to be a regular contributor, please send an email and an example of a blog post to tesllondon@tesllondon.org
End of the year? Already?

May 31, 2015

May 2015 Wrap-Up

As I'm sitting here writing this, it's 9 degrees out and raining on this last morning of May, 2015. And I don't mind the rain, not one bit, or the cold, for that matter. I've been hearing that this summer will be a hot and humid stinker, so I will take this while I can.

May was the culmination of two of our main events, here at TESL London; the Conference was May 2, and the Spring Fling Awards banquet on May 27th.

The Conference

What stood out the most for me, and for many of my colleagues, was the student panel. Five students representing different areas of Adult ESL took part responding to questions and comments in a room full of teachers/instructors. They battled their nerves and reminded us of what is important in the classroom. There were a few comments, in particular, that stood out for me. The first was on how important it is to teach the culture, along with the language. Bei, an international student, puzzled "I don't understand why Canadians always say I'm sorry...". She also noted that she could learn the grammar anywhere, and that she wanted to know more of Canadian culture while here in Canada. Makes sense, right?

The other comment that I have since brought back to my school was about directly teaching pronunciation. Luis wondered "How can we have a speaking class with no pronunciation?". I thought about what he was saying, and he has a point. We show rising and falling intonation patterns, the final /ed/ sounds in the past tense, but clearly more work needs to be done directly on improving pronunciation. Maybe break out the Jazz Chants again?

A quick google search on "American Pronunciation Apps" yields no less than 1.25 million results - clearly, there is a demand. The CLB speaking outcomes focus primarily on what the student can do, as opposed to how the student does it. Perhaps the movement away from pronunciation stems from an aversion to "accent reduction" courses. Does making the new Canadian sound like the old Canadian remove part of their identity? I don't have an answer for that. I just know that, like direct grammar instruction, students want direct pronunciation work in the classroom.



The Awards Banquet - Welcome to the Bellamere!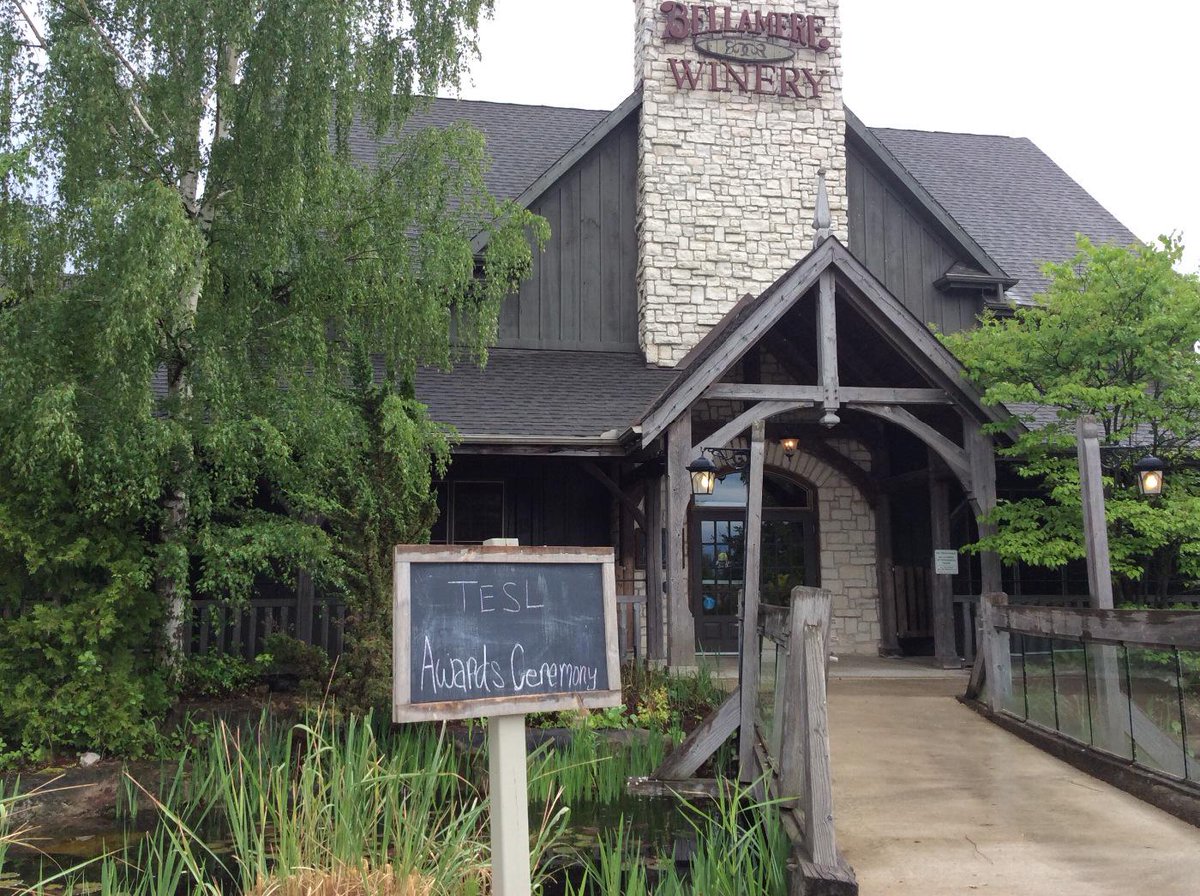 TESL London scouted out a new venue for our Spring Fling Awards Banquet this year. The Bellamere Winery and Event Centre was a nice change. It was beautiful, spacious, and the food was, in a word, incredible. It was a fantastic evening, and a final farewell to our members who are retiring, as well as recognition of exceptional members and students.
TESL London, through its member nominations, recognized Debby Donato for Lifetime Achievement Award, a wickedly funny and intelligent woman who I will miss greatly, and Harmina Desmit for Teacher/Instructor of the Year (also someone with whom I've worked and am constantly inspired by). Members also nominated two very deserving adult learners, Layla Rasho from the YMCA and Bei Zhang from London Language Institute. It was a fun night, with lively conversation, great food, and excellent company. Oh yeah, and yours truly was nominated and won the Affiliate Service award. It is very much appreciated, but I do want to point out that the entire exectuive of TESL London works hard for its members, and any one of the remarkable women I sit with on the executive is also just as deserving.
When I gave my thank you speech, I forgot to thank London Language Institute for providing us the space to meet every month in their boardroom. Thank you, LLI!
That's it, for another year. As the next school year shapes up, I know that there are some clouds on the horizon representing uncertainty and confusion about some rather major changes happening to LINC funded programs, namely the introduction of PBLA. Other changes are on the horizon as well around what technology we will be using in the classroom, and, for my organization, we will be losing one of the most vibrant student communities when Lorne Avenue closes its doors. Our field is forever being shaped by political forces, some beneficial, some whims, many of which spiral back to us over the years. I haven't been here long enough to say that everything old is new again, but I pay attention, and I've heard this from my colleagues. If you'd like to weigh in, please let me know what you're thinking. Write a comment here, or pen a blog for us. "Together, we can achieve more..."